Blawarthill parish church
Glasgow, Scotland
Blawarthill
serving Christ
and community
in north-west glasgow
Welcome to our website! Our church meets every Sunday at 11.00 for worship. Services are relaxed, and follow a traditional Presbyterian format. We are an inclusive church, believing that the Bible teaches us not to discriminate on grounds of race, class, ability, or gender identity. We are part of the Church of Scotland. The "Kirk", as it is often referred to, is a broad church, comprising people from all theological backgrounds, and we find our unity in Jesus Christ and not in narrow confessional definitions. We rejoice in the diversity that enriches our fellowship. We recognise that our faith comes alive when we are able to offer practical support to our community, in acts of service and outreach.
We are working for our first Eco-Congregation award.
Keep an eye on our new Eco-Congregation page for updates!
Click to go to the newest additions to our website
Decisions taken at the 2019 General Assembly have the potential to reshape the Church of Scotland at every level.
To help Church members and congregations engage with the reform process, Life and Work has released a free four-page guide summarising the key decisions.
Come along and join us!
Sunday worship is at 11.00 a.m. in church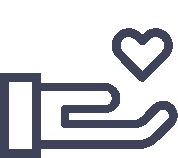 "Whoever is generous to the poor lends to the lord, and he will repay him for his deed."