Blawarthill parish church
Glasgow, Scotland
Coronavirus update
We are open again for live worship
on Sundays at 11 a.m.
The First Minister has announced further restrictions for Glasgow, placing us in Level 4. For church services, this means our capacity is reduced from 50 to 20. The Session Clerks are introducing a phone-round service for regular worshippers, asking you to go on a fortnightly rota and booking you for your preferred Sunday. If possible we will admit some members on consecutive Sundays, but it will depend on demand. Please phone the minister or a Clerk if you don't get a call from us in the next 2-3 days, or if you are in any doubt, or if there is a Sunday you would particularly like to attend. We'll do what we can to help you. You are strongly advised not to turn up to church without checking as there is a good chance we won't be able to let you in.
​
Sunday School can continue to meet as it has for the last few weeks.
​
The work of the food bank is unaffected.
​
Please be advised that all church users should be more attentive than ever to the rules about face covering, hand sanitising, and maintaining the two metre 'social' distance.
​
Please bear in mind that the reason we are in further restrictions is that the prevalence of the virus is high. The church is staying open because most members want it to. But you will want to make your own personal risk assessment as well, as to whether you feel it is right for you to come to church or stay home while we remain in Level 4. Either way you will be in our thoughts and prayers.
​
The current regulations mean that visits by church members to people in their homes are currently not possible. The Minister is permitted to meet people to arrange weddings and funerals and is currently doing this in the Church Welcome Lounge, where sanitising, social distancing and "track and trace" arrangements are in place.
​
Our Sunday School and the Boys' Brigade continue to meet. Sunday School children are asked to go straight to the Welcome Lounge
below the church at 11 a.m.
​
Glasgow NW Foodbank is open at Blawarthill
Tuesdays and Fridays, 12 noon - 2 p.m.
​​
Blawarthill
serving Christ
and community
in north-west glasgow
Welcome to our website!
Our church meets every Sunday at 11.00 for worship. Services are relaxed, and follow a traditional Presbyterian format. We are an inclusive church, believing that the Bible teaches us not to discriminate on grounds of race, class, ability, or gender identity. We are part of the Church of Scotland. The "Kirk", as it is often referred to, is a broad church, comprising people from all theological backgrounds, and we find our unity in Jesus Christ and not in narrow confessional definitions. We rejoice in the diversity that enriches our fellowship. We recognise that our faith comes alive when we are able to offer practical support to our community, in acts of service and outreach.
We are working for our first Eco-Congregation award.
Keep an eye on our new Eco-Congregation page for updates!
Click to go to the newest additions to our website:
Loving God,
​
You have drawn near to us in your Son Jesus Christ, who shared our humanity and our suffering. In His name we pray for those who feel vulnerable in the face of the global Coronavirus epidemic, and fear the danger as the virus spreads. We pray that we may find strength and courage in Him who conquered even death for our sakes.
​
We pray for the National Health Service, and for all who work to help and support us; for workers whose job and livelihood is affected by the crisis; for our governments as they guide us with the help of experts on how to respond; and for those who are seriously ill at this time.
​
We pray that you would guide us to how we can respond personally to the challenges of these days. Make us more confident in our faith, and so more hopeful, more at peace, and more considerate towards others who are in need.
​
Help us to remember our responsibilities, especially to the most vulnerable in our community. Let us remember that the Church is not just a place to gather but a serving community looking outwards to minister your love.
​
Strengthen us by your Holy Spirit, so that we may carry on as best we can, looking to cheer and support others, bringing encouragement and practical help, remembering loved ones, friends and neighbours in our prayers.
​
Trusting ever in our Saviour and Lord Jesus Christ, we offer this prayer in His name. Amen.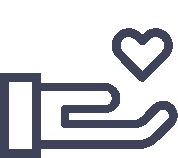 "Whoever is generous to the poor lends to the lord, and he will repay him for his deed."